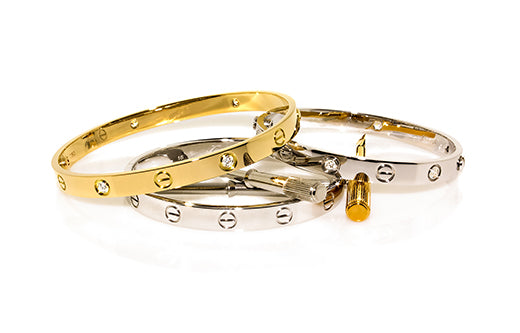 Selling Your Jewelry - Q & A
Q: How does it work? What are the steps involved?
A: The process is simple and easy, as outlined below.
  • Tell us about your diamonds, jewelry, and watches. You can contact us and follow up with photos by email or text message.
  • After reviewing your photos and description of items, we will respond with an offer-price range we think is appropriate for your jewelry.
  • If you like the offer, you can send your items for a final inspection. Shipping is secure and insured. There is no obligation.
  • We will generate an offer price after inspection. Upon acceptance of the offer, you will receive immediate payment by check, ACH, or bank transfer.
Q: What happens after I submit photos of my jewelry for evaluation?
A: Receive a quote.  We will review your submission and provide an estimated offer within 1 - 2 business days. There is never any obligation to sell. Include any information you have about your items, including appraisals, laboratory reports, store receipts, insurance descriptions, and even family lore can help us help you—forward pictures of the front and back of each piece. For watches, please include a view of the side of the watch with the crown. 
Q: How do you handle shipping?
A: Our mail-in service is simple, safe, and fully insured. We will help establish insurance levels to protect you against loss and help you arrange for insured shipping. We will send you a shipping package for your jewelry. Our return shipping address will be on the label included. We will ship your jewelry back to you free of charge if you choose not to accept either option. While there are no fees for our services, any international shipping fees and customs duties for mail-in returns will not be refunded.
Q: Shipping Package: How to Guide
A: Include the following inside the package along with your jewelry.
  • Contact information: Name, address, daytime phone number, email address.
  • Inventory List: of items inside the package you are sending. 
  • Required Documents: Second Hand Trading Laws require us to have a copy of a government-issued form of identification. A copy of your passport, driver's license, military ID, or state ID. 
  • Proof of mailing address: ( Ie: A utility bill in your name)
  • Other Items: Include original paperwork and boxes if possible. They can increase the value of both watches and jewelry. If your name or personal information appears on the paperwork, we will keep your information private.
Important Packing Instructions: 
  • Use protective packing materials to prevent movement or damage during transit (bubble wrap, air pads, packing peanuts, foam, etc.) Tapping the protected packaging to the bottom of the box should help prevent the piece from being damaged in the shipping process. 
  • Take the package to your nearest FedEx location or the US Postal Service Branch. We will help you get the jewelry to us safely. 
  • We will notify you upon arrival. 
Q: What happens when we receive your jewelry package?
A: Our GIA-certified jewelers will inspect your items in person and generate a final purchase price for your jewelry. We will provide you with an offer within 1 - 3 business days. (Usually the same or the next day, but we prefer to under promise and over deliver). If our offer does not appeal to you, we will ship your items back to you immediately if we cannot offer a good alternative. We will ship your items back to you at our expense. 
Q: How does payment work?
A: Payments are processed immediately on the day you accept the final purchase price for your jewelry. You can choose payment by check, ACH, or receive credit towards your next jewelry purchase from Fabon5th.com. 
Q: Can I sell my jewelry online?
A: If your jewelry qualifies, we can offer you the opportunity to have Andrew Fabrikant & Sons and Fabon5th.com market the gems, jewelry, or watches for you. There is no commission you pay. The buyer is responsible for our compensation. Call for more information at 212-557-4888.