This store requires javascript to be enabled for some features to work correctly.
online • social media • email
retail marketing
Our team utilizes online retail sales channels to attract customers and generates sales. From Google Shopping & Advertising to our online store, we've got the market covered.

www.fabon5th.com
online store
We can and often do feature new items on our modern online store, fabon5th.com.  We ask for a minimum of 3 months of opportunity to sell the item, but this is flexible.  If we are in the middle of negotiating with a potential client we may ask for additional time. If a client wants it back earlier, it is theirs and we will return it immediately.
• No cost for insurance which covers the value of your items while in our possession.
• Professional photography at no cost to the client.
• Outlets are selected based upon the object being sold and the strength of the market in different areas of the world.
• Our process selects local websites around the world. Ie: We work with a web site in Hong Kong that specializes in particular styles of jewelry.
• We have relationships with local retail stores around the world.
The only possible expenses to the client would be for repairs or laboratory reports that might be needed.
Retail marketing may take a little longer but it is also the most aggressive way to get the client the most money for their jewelry. In all cases (other than a direct purchase) our remuneration or fees are paid by the buyer and not the client. If we are not successful for the client, there is no fee.
visit our store

micro-verticals and
global shopping
We partner with Google Shopping which is an online search service that connects products such as jewelry, the stores where they can be purchased, and customers looking to buy. Google is able to target incredibly specific markets (micro-verticals) allowing us to put your jewelry, piece or collection directly in front of potential customers online using the latest A.I. technology which learns & get's better over time.

connecting with
social media
We utilize social media because it has a benefit of getting our jewelry message in front of people quickly and easily. And it allows us to put selected items in front of our audience even when they aren't necessarily thinking about jewelry. We believe social listening is important to identify trends and stay in touch.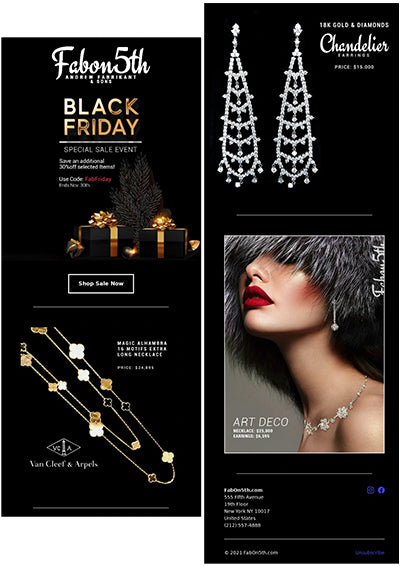 email marketing
With direct email marketing we speak directly to an audience who wants to hear from us. We take advantage of seasonal & holiday campaigns to showcase individual pieces or estate collections. Marketing your jewelry by email can be a fast, flexible and cost-effective way of reaching customers who are interested or shopping for what you have to sell. Our email campaigns include a unique landing page in our store for the jewelry shown. Our extensive email list grows by the day.